An intersectionality-based policy analysis framework: critical reflections on a methodology for advancing equity
International Journal for Equity in Health
The official journal of the International Society for Equity in Health
2014
13:119
Received: 13 August 2014
Accepted: 26 November 2014
Published: 10 December 2014
Abstract
Introduction
In the field of health, numerous frameworks have emerged that advance understandings of the differential impacts of health policies to produce inclusive and socially just health outcomes. In this paper, we present the development of an important contribution to these efforts – an Intersectionality-Based Policy Analysis (IBPA) Framework.
Methods
Developed over the course of two years in consultation with key stakeholders and drawing on best and promising practices of other equity-informed approaches, this participatory and iterative IBPA Framework provides guidance and direction for researchers, civil society, public health professionals and policy actors seeking to address the challenges of health inequities across diverse populations. Importantly, we present the application of the IBPA Framework in seven priority health-related policy case studies.
Results
The analysis of each case study is focused on explaining how IBPA: 1) provides an innovative structure for critical policy analysis; 2) captures the different dimensions of policy contexts including history, politics, everyday lived experiences, diverse knowledges and intersecting social locations; and 3) generates transformative insights, knowledge, policy solutions and actions that cannot be gleaned from other equity-focused policy frameworks.
Conclusion
The aim of this paper is to inspire a range of policy actors to recognize the potential of IBPA to foreground the complex contexts of health and social problems, and ultimately to transform how policy analysis is undertaken.
Keywords
Intersectionality
Equity
Policy analysis
Reflexivity
Health
Introduction
In the field of health, numerous frameworks (e.g., sex and gender based analysis, health equity impact assessments) have emerged over the last fifteen years, all attempting to advance better understandings of the differential impacts of health policies and to produce inclusive and socially just health outcomes [1]-[6]. Despite progress made to date, there is still much work to be done to better understand how policy affects diverse populations, including precisely identifying who is benefiting and who is excluded from health policy goals, priorities and related resource allocation. As part of the ongoing efforts to move forward work in this field, there is a growing interest in the theory of intersectionality and its potential to improve current equity-driven health policy analyses [7]-[10]. To date, however, this potential has not been realized, largely due to the fact that few methods have been developed to operationalize intersectionality in the context of health policy.
In this paper, we describe an innovation for policy analysis that fills this gap: the Intersectionality-Based Policy Analysis (IBPA) Framework. Developed and refined through an iterative, participatory process inclusive of multiple sectors, IBPA is intended to capture and respond to the multi-level interacting social locations, forces, factors and power structures that shape and influence human life and health. Its aim as a policy tool is to better illuminate how policy constructs individuals' and groups' relative power and privileges vis-à-vis their socio-economic-political status, health and well-being. Significantly, we also present a synthesis of seven health-related policy case studies based on this Framework. The purpose of this synthesis is not to provide a detailed overview of each case study, which is available elsewhere [11] but rather to clearly and succinctly distill the value and benefit of conducting IBPA in relation to these diverse areas of policy. As such, the analysis of each case study is focused on explaining how IBPA: 1) provides an innovative structure for critical policy analysis; 2) captures the different dimensions of policy contexts including history, politics, everyday lived experiences, diverse knowledges and intersecting social locations; and 3) generates transformative insights, knowledge, policy solutions and actions that cannot be gleaned from other equity-focused policy frameworks. The aim of this paper is to inspire policy practitioners and actors to recognize the potential of IBPA to foreground the complex contexts of health and social problems, and ultimately to transform how policy analysis is undertaken.
Intersectionality
Rooted in a long and deep history of Black feminist writing, Indigenous feminism, third world feminism, and queer and postcolonial theory [12]-[16], intersectionality has emerged as a widely respected, albeit variously defined research and policy paradigm [17]. Nevertheless, there are a number of central tenets that capture the unique nature of this paradigm. These are:
human lives cannot be reduced to single characteristics;
human experiences cannot be accurately understood by prioritizing any one single factor or constellation of factors;
social categories/locations, such as 'race'/ethnicity, gender, class, sexuality and ability, are socially constructed, and dynamic
social locations are inseparable and shaped by interacting and mutually constituting social processes and structures, which, in turn, are shaped by power and influenced by both time and place; and
the promotion of social justice and equity are paramount [8],[11].
Intersectionality encourages critical reflection that allows researchers and decision makers to move beyond the singular categories that are typically favoured in equity-driven analyses (e.g., sex and gender in sex and gender based analysis) and also beyond the kind of enumerated list of determinants of health often found in health impact assessments to consider the complex relationships and interactions between social locations such as Indigeneity, sexuality, gender expression, immigration status, age, ability and religiona. This enables an examination of the simultaneous impact of and resistance to systems and structures of oppression and domination, such as racism, classism, sexism, ableism and heterosexism [8]. Intersectionality is concerned with bringing about a conceptual shift in how researchers, civil society, public health professionals and policy actors understand social categories, their relationships and interactions. It requires a consideration of the complex relationship between mutually constituting factors of social location and structural disadvantage so as to more accurately map and conceptualize determinants of equity and inequity in and beyond health [18].
An ongoing challenge in advancing this body of work is the further development of explicit and user-friendly methods that can more effectively translate intersectionality theory into practical approaches to be understood and used by decision makers and policy researchers. Taking on an intersectionality study/analysis can be incredibly intimidating. Bowleg [19] states, although intersectionality theory provides a conceptually solid framework with which to examine the social locations of individuals and groups within the broader interlocking structures of power relations [20],[21], the methodological choices available to do so and/or guidance offered on how to do so are severely limited [22]-[26]. In response to this gap, a handful of tools have recently been developed for applying intersectionality to public policy [8],[25],[27]-[29] which have started to illuminate the potential of intersectionality. None to date, however, have specifically been developed for health and health-related policies and programs, making the IBPA detailed below, a significant contribution to the literature.
Methods
The Intersectionality-Based Policy Analysis (IBPA) Framework and corresponding case studies were developed in an iterative, participatory process. Beyond the input of the authors, the final Framework reflects the feedback received from emerging and established scholars in the field within academic, governmental and community settings. In particular, it responds to feedback from policy actors across provincial and federal departments who increasingly report having 'lens fatigue' navigating an increasingly numerous terrain of policy lenses focused on various factors and considerations such as gender, geographic location, illness status, age, and ability.
Based on a series of meetings and peer feedback, as well as on critical reflection into current gaps and trends in equity-promoting public policy analysis, a draft IBPA Framework was collaboratively developed to guide the development of the case studies. This draft was further revised near the completion of the case studies, as the intention of the group was to engage in an ongoing process of refinement to ensure that the IBPA is a usable and practical guide for policy analysis.
The IBPA Framework has two core components: a set of guiding principles (see Figure
1
) and a list of 12 overarching questions to help shape the analysis (see Figure
2
). The guiding principles are intended to ground the 12 key questions, including their supporting sub-questions, in order to ensure that each is asked and answered in a way that is consistent with an intersectionality-informed analysis.
b
Put succinctly, the principles are designed to be used in concert with the questions.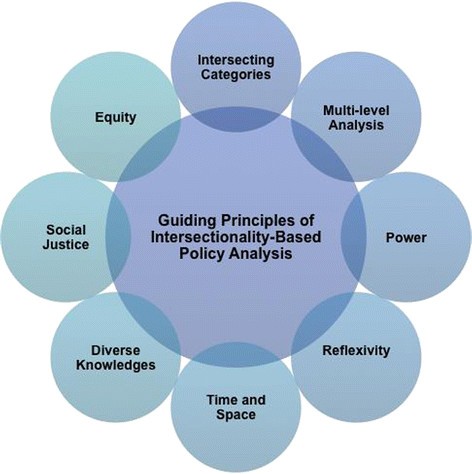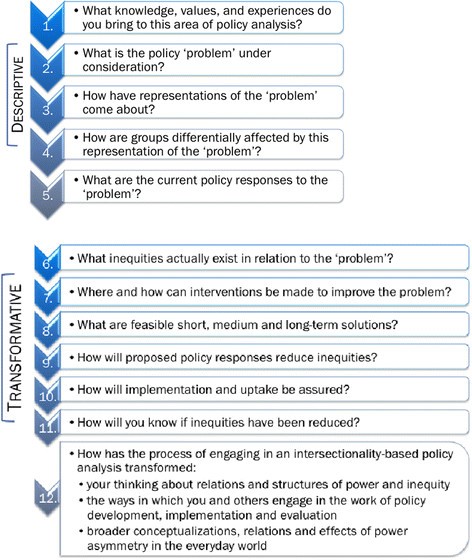 The questions are divided into two categories: descriptive and transformative. Their combined effect is intended to expand and transform the ways in which policy problems and processes are understood and critically analyzed in order to ensure fine-tuned and equitable policy recommendations and responses. The first set of descriptive questions is intended to generate critical background information about policy problems in their full context, with specific attention to the processes and mechanisms by which policy problems are identified, constructed and addressed. Their purpose is to reveal assumptions that underpin existing government priorities, the populations targeted for policy interventions, and what inequities and privileges are created by current policy responses. The second set of transformative questions is intended to assist with the identification of alternative policy responses and solutions specifically aimed at social and structural change that reduce inequities and promote social justice. The questions in this section prompt users to consider actions that will ensure meaningful uptake of equity-focused policy solutions as well as the measurement of the impacts and outcomes of proposed policy responses.
Simplicity and flexibility are key features of the Framework. While some users may ultimately ask all 12 questions to help guide their analysis, others may focus on certain questions, tailoring them to specific policy contexts. Some questions may be more or less relevant depending on the policy under examination, its history, and its stage of development and implementation. At the same time, it is critical that the questions be grounded in key intersectionality principles to ensure IBPA's transformative effects on how policy problems and issues are understood and responded to.
Each of the case studies, briefly described in the following section, utilizes IBPA to analyze key health and health related policy areas. Collectively they demonstrate the added value of engaging with intersectionality for analyzing social and health inequities. At the same time, each author applies the IBPA in very different ways, demonstrating the flexibility of this Framework. However, they each also make explicit - concretely and persuasively – why IBPA allowed them to discover new insights and knowledge about particular policy problems.
Results and discussion
To date, the authors of the IBPA Framework have applied this mode of critical policy analysis to seven different health policy fields. Elsewhere [11] these policy examples are presented in full detail. In this paper, however, we highlight what we consider the most salient components of the IBPA and use these to frame the discussion of each unique case study. Our goal is to clearly and succinctly demonstrate – across a diversity of health and health-related issues - the advancements that can be realized by using intersectionality in the analysis of policy.
The first component that each policy example discusses is the structural innovation of the IBPA Framework. This component is characterized by three defining elements of an IBPA-informed analysis: the interrogation, using diverse sources of information and knowledges, of the implicit assumptions underpinning policies; the attention to historic developments and contemporary framings of social issues and policy problems; and the self-reflexive method for capturing complex multi-dimensional power dynamics that shape everyday lived experiences.
The second component that the case studies highlight is the transformative effects of IBPA. This part of the discussion seeks to demonstrate how an IBPA generates new perspectives and insights about policy issues and affected populations. As all the authors show, new knowledge and evidence has significant potential to disrupt and challenge the status quo, including the most progressive approaches to policy development, implementation and evaluation. Finally, the case examples also illuminate why an IBPA provides directions for renewed advocacy efforts aimed at social change and social justice.
The first two case studies focus on policy issues typically understood as highly gendered phenomena. Both authors, however, draw on IBPA to illustrate the importance of multiple social locations and structures of power, including but not limited to gender, that influence the availability and delivery of health services. To begin, Rudrum examines current maternity care policy, revealing inequities in access to high-quality appropriate care for differently situated women across geography, ethnicity, Aboriginal identity, and socioeconomic status. In the process, this author challenges the idea that there are fixed norms or standards in the care that women require in pregnancy and childbirth. Next, Giesbrecht focuses on palliative care policy, revealing the current inequities in access to services and supports, and demonstrating the extent to which 'choices' at the end of life by those who need and provide care are inextricably linked to interactions between socioeconomic status, service provision, cultural discourses, and emotional, spiritual and relational factors infused with physical and social aspects of place.
Three of the case studies specifically focus on issues relevant to Aboriginal health. Hunting's examination of Fetal Alcohol Spectrum Disorder (FASD) shows why Aboriginal populations continue to experience health inequities in relation to current policies. She argues that a sole focus on women as a category, a narrow conception of risk, and a lack of attention to intersecting processes of oppression within FASD policy discourse undermine the development of IBPA-informed policy processes and reforms that can more effectively address the experiences, needs and perspectives of diverse populations affected by substance use. Second, in reviewing policy processes of the Kelowna Accord – an Aboriginal health policy initiative in Canada that was developed but never implemented – Fridkin demonstrates how IBPA can be applied to issues in Aboriginal health policy to promote the inclusion of Aboriginal peoples and knowledges in policymaking processes, which may contribute to agendas of decolonization. Fridkin illustrates how IBPA can be used to analyze not just policies themselves, but policy processes, thus highlighting the potential of IBPA to expand what is typically constituted as policy analysis. Third, using an IBPA lens, Clark shows that even policies that forefront Aboriginal needs fall short because they often fail to consider the multiple and intersecting layers of Indigenous identity, such as age, rurality, gender-expression and experiences of trauma, including interactions with multiple policy systems. Clark's contribution is also important in that she draws significant parallels between intersectionality and Indigenous ways of knowing, while raising critical questions about the relationship between IBPA and Indigenous epistemology.
The final two case studies in the collection tackle various issues relating to HIV. First, Grace draws on IBPA to advance understandings of complex issues facing sexual minority populations by considering both current understandings and testing technologies surrounding HIV and the criminalization of HIV non-disclosure. He makes a persuasive argument for using IBPA to advance an equity-focused understanding of the 'problem' of HIV transmission that places front and centre the structural drivers that produce differential vulnerabilities among affected populations. Lastly, Ferlatte uses an intersectionality lens to evaluate HIV prevention funding for gay men. The examination includes consideration of discourses around HIV, funding application processes and funding decision outcomes. His analysis highlights the structural barriers involved in securing support for HIV prevention. Importantly, Ferlatte discusses possible alliances with other groups to work for policy change rooted in understandings of the power dynamics that currently shape the HIV funding system.
Conclusion
In this paper we aim to expand current paradigms of policy analysis by introducing an IBPA Framework and importantly, demonstrating its worth in a variety of health related policy areas. The case studies strive to bring issues of equity to the fore and ultimately inspire other policy practitioners and researchers to use this approach in their own policy work. While the examples here show the potential and significance of operationalizing intersectionality, it is important to note that the IBPA Framework is not without its challenges.
First, the very process of implementing such an approach can be resisted by those who are not open to social justice oriented change and/or asking difficult questions about power and structural asymmetries in the context of politics and policy. Second, even among those committed to such change, the IBPA may be rejected for its purposeful movement away from prioritizing - a priori - certain factors, often seen as central to shaping inequities, such as gender or Indigenous sovereignty and resistance, and instead leaving the determination of what is important to the process of discovery. Third, new types of expertise are required to move beyond the status quo of specifically focusing on single or even additive approaches (e.g., gender + age + race) and instead capturing multiple and intersecting locations and social structures. Often the evidence required for an IBPA application is either absent or in very nascent stages of existence. Related to this is the challenge of ensuring that when possible all relevant lived positions in relation to a policy problem or priority are captured and that in the process, appropriate types of data are collected and analyzed.
As illustrated by the diverse case studies in this paper, researchers chose which IBPA questions to focus on. While providing important flexibility, this flexibility also raises the issue of whether something was missed from the final analysis because of the avenues of inquiry that were chosen or alternatively left out. And finally, even if the IBPA is rigorously applied and new ways of thinking about a policy problem or issue are revealed there still remain obstacles in terms of translating complex knowledge into accessible condensed messages for policy actors to digest and understand. Ultimately there are no guarantees that such critical research will lead to action or more precisely structural change. Processes of social transformation have to involve many kinds of interventions, actions and actors, including but not limited to the realm of policy analysis.
Nevertheless, the IBPA Framework, as demonstrated by the case studies presented here, is an innovative mechanism for analyzing the operation of power and processes of stigmatization in policy making. It is important to highlight that the architects of the IBPA envisioned it to be a living document that will change and evolve over time as a range of end users pilot test and provide feedback on how the Framework can be improved and made more practical, effective and precise. The IBPA Framework and case studies presented in this paper are thus a first step in contributing to the emerging literature in the field, expanding current paradigms of policy analysis, and allowing policy actors to see themselves as critical and potentially transformative players in the development, implementation and evaluation of policy.
Endnotes
aFor a detailed discussion and comparison of key current equity-focused policy analysis tools used to capture the differential effects of policy on the population in Canada, including sex and gender based analysis (SGBA) and health and health equity impact assessments (HIAs/HEIAs), see Hankivsky et al. [22].
bThe IBPA Framework contains sub-questions relating to each overarching question to help guide analyses. Please see Hankivsky [11] for more details.
Declarations
Acknowledgements
This research was supported by the Canadian Institutes of Health Research and the Michael Smith Foundation for Health Research.
Authors' Affiliations
(1)
School of Public Policy, Simon Fraser University, British Columbia (BC), Canada
(2)
London School of Hygiene & Tropical Medicine, London, UK
(3)
Dalla Lana School of Public Health, University of Toronto, Ontario, Canada
(4)
Institute for Intersectionality Research & Policy, Vancouver, Canada
(5)
Geography, Simon Fraser University, Vancouver, Canada
(6)
Interdisciplinary Studies Graduate Program, University of British Columbia (UBC), Vancouver, Canada
(7)
Institute for Gender, Race, Sexuality and Social Justice, UBC, Vancouver, Canada
(8)
Faculty of Health Sciences, Simon Fraser University, Vancouver, Canada
(9)
School of Social Work, UBC, Vancouver, Canada
(10)
School of Public Policy, Simon Fraser University, Vancouver, Canada
Copyright
© Hankivsky et al.; licensee BioMed Central Ltd. 2014
This article is published under license to BioMed Central Ltd. This is an Open Access article distributed under the terms of the Creative Commons Attribution License (http://creativecommons.org/licenses/by/4.0), which permits unrestricted use, distribution, and reproduction in any medium, provided the original work is properly credited. The Creative Commons Public Domain Dedication waiver (http://creativecommons.org/publicdomain/zero/1.0/) applies to the data made available in this article, unless otherwise stated.