Systematic review

Open Access
Social media and digital technology use among Indigenous young people in Australia: a literature review
International Journal for Equity in Health
The official journal of the International Society for Equity in Health
2016
15:81
Received: 16 December 2015
Accepted: 4 May 2016
Published: 25 May 2016
Abstract
Introduction
The use of social media and digital technologies has grown rapidly in Australia and around the world, including among Indigenous young people who face social disadvantage. Given the potential to use social media for communication, providing information and as part of creating and responding to social change, this paper explores published literature to understand how Indigenous Australian youth use digital technologies and social media, and its positive and negative impacts.
Methods
Online literature searches were conducted in three databases: PubMed, Google Scholar and Informit in August 2014; with further searches of additional relevant databases (Engineering Village; Communication & mass media complete; Computers & applied sciences complete; Web of Science) undertaken in May 2015. In addition, relevant literature was gathered using citation snowballing so that additional peer-reviewed and grey literature was included. Articles were deemed relevant if they discussed social media and/or digital technologies and Indigenous Australians. After reading and reviewing all relevant articles, a thematic analysis was used to identify overall themes and identify specific examples.
Results
A total of 22 papers were included in the review. Several major themes were identified about how and why Indigenous young people use social media: identity, power and control, cultural compatibility and community and family connections. Examples of marketing for health and health promotion approaches that utilize social media and digital technologies were identified. Negative uses of social media such as cyber bullying, cyber racism and the exchange of sexually explicit content between minors are common with limited approaches to dealing with this at the community level.
Discussion
Strong cultural identity and community and family connections, which can be enhanced through social media, are linked to improved educational and health outcomes. The confidence that Indigenous young people demonstrate when approaching the use of social media invites its further use, including in arenas where this group may not usually participate, such as in research.
Conclusions
Future research could examine ways to minimise the misuse of social media while maximising its positive potential in the lives of Indigenous young people. Future research should also focus on the positive application of social media and showing evidence in health promotion interventions in order to reduce health inequities between Indigenous and non-Indigenous young people.
Keywords
Social mediaDigital technologyIndigenousAboriginalYouthYoung peopleAustralia
Introduction
The world is changing rapidly as a result of new digital technologies which have revolutionised opportunities for and the nature of networking and communication. It is essential to understand how different populations use digital technologies and social media in order to explore their potential to improve social and health outcomes.
Social media refers to social interaction among people in which they create and share information and ideas in virtual communities and networks. Utilising digital media and web-based platforms enables "users to actively share information, generate content, collaborate and interact with each other…[and] can be accessed from computer and mobile technologies" [1]. An important component of social media is the role of the audience as a user who engages actively with the content rather than simply viewing it [2]. The term social media covers a range of different platforms with overlaps between the different types which include: Social Networking such as Facebook and Linked In (which enable connections with other people of similar interests and backgrounds and allow creation of a profile, various ways to interact with other users and ability to setup groups); Media Sharing (such as YouTube and Flickr that enable uploading and sharing of media such as pictures and video); Microblogging (such as Twitter which provides short updates pushed out to anyone subscribed to receive the updates); and Blogs (which are online forums where members hold conversations by posting messages, with discussion around the topic of the blog post). This paper includes a discussion of social media and digital technologies that are used to access social media and uses the terminology "social media" when discussing the topic broadly.
Digital technologies, such as mobile smartphones and laptop computers, allow users to access social media easily and frequently and have substantially increased the uptake of social media. Social media is a relatively recent phenomenon as ownership and access to computers, smart phones, tablets and the Internet has rapidly increased in Australia. Facebook reported 13.6 million Australian users in September 2014 compared to only 12 million in September 2013 [
3
,
4
]. Adolescents and young adults are more likely to use social media than older sectors of the population [
2
], with social media usage increasing from the younger to the older teenage years [
5
] and Facebook usage among the Aboriginal and Torres Strait Islander (hereafter termed Indigenous) population higher than in the Australian population overall (Table
1
) [
6
] and personal communication Matt Balogh). These statistics demonstrate a changing world in which communication and engagement with the world via social media channels has become common, particularly in young people and including in Indigenous Australians. Youth or young people refers to people in that period between childhood and maturity, often called youth and is considered to be those between puberty and 25 years; however, it is often used as a term without being explicitly defined. The Indigenous population distribution is much younger than the Australian population generally, with a median age of 20 years compared with 35 years, and Indigenous Australians are more likely than other Australians to live in small, remote communities, with relatively few services, facilities, and opportunities [
7
]. Those people that live more remotely were generally colonised later and show less acculturation to western ways and greater adherence to cultural traditions and speaking native languages other than English.
Table 1
Social media use in Australia
| Population group | Year | Type of usage | % of population that are users | Source of Data |
| --- | --- | --- | --- | --- |
| 12–13 year old Australians | 2013 | Use of a social networking site in the last four weeks | 67 % | ACMA Research Report [43] |
| 14–15 year old Australians | 2013 | Use of a social networking site in the last four weeks | 85 % | ACMA Research Report |
| 16–17 year old Australians | 2013 | Use of a social networking site in the last four weeks | 92 % | ACMA Research Report |
| All Australians | 2014 | Facebook | 42 % | McNair Ingenuity Research Institute reported in [6] |
| Aboriginal and Torres Strait Islander Australians | 2014 | Facebook | 60 % | McNair Ingenuity Research Institute |
Many Indigenous young people in Australia face social disadvantage, particularly in the areas of education, child safety and criminal justice system involvement. It is common for Indigenous young people to drop out of school, with only 25 % of Indigenous people aged 15 years and over reporting their highest educational level achieved as Year 12 or equivalent compared to 52 % of the non-Indigenous population [8]. Disparities are evident from the first year of schooling and remain apparent throughout the schooling years. Contributing to the less developed literacy and numeracy skills of Indigenous students is their lower attendance at school so working collaboratively with Indigenous communities to develop practical and relevant strategies is necessary to improve the educational status of Indigenous people [9]. Indigenous young people are more likely to experience abuse, with the rate of assault among Indigenous children around 5 times higher than among non-Indigenous children [10] and rates of juvenile incarceration are 31 times that of non-Indigenous youth [11]. This combination of educational disengagement, child safety issues and criminal justice system involvement are part of the complex web of social disadvantages that many Indigenous young people face and important social determinants of health inequities, "the unfair and avoidable differences in health status seen within and between countries" [12]. Addressing social disadvantage is therefore essential to reduce health inequities in the Australian Indigenous population.
Many Indigenous Australians have utilised the Internet from its early days [13, 14], despite the economic, social, cultural and geographic factors that can affect their access. With increasing access and use of social media, understanding its use and impacts among Indigenous young people could contribute to both interventions and to monitoring and evaluation of programs. Media and social marketing have long been part of health promotion related interventions and there is evidence that such interventions can work with a range of target groups, in different settings, and can work upstream as well as with individuals [15]. In the same way, social media is now commonly proposed as part of interventions. However, it is essential to understand how a target group uses and responds to a technology in order to use if effectively, and to ensure that any proposed use is appropriate and does not lead to adverse effects. This paper explores published literature on the ways in which social media is used by and for young Indigenous Australians, acknowledging their diversity, and with a view to positive and negative impacts and how this potentially impacts health and health promotion approaches.
Methods
Initially, online literature searches were conducted in the following three databases: PubMed, Google Scholar and Informit. Informit provides access to specialist content through over 80 databases with subject-based databases featuring coverage of Australian and international information resources covering a wide range of subjects, including health, engineering, business, education, law, humanities and social sciences. During August 2014, searches of these three databases were progressively undertaken using the following search terms: (indigenous [mesh] OR oceanic Ancestry Group [mesh] OR aborigin* OR indigeno* OR indigene*) AND (social media [mesh] OR Facebook OR social networking OR virtual communications OR online networks OR cyberbull* OR DivaChat OR Twitter OR YouTube) (Fig.
1
). The initial search was screened for relevance by reading the titles and abstracts with the full article then obtained for further full-text assessment. A number of papers that referred to use of internet and social media only related to Indigenous student learning in higher education were excluded. Citation snowballing was used to identify additional relevant sources. Grey literature, which refers to academic literature that is not formally published such as monographs and technical reports from government agencies or scientific research groups, working papers from research groups or committees, was also included. Articles were deemed relevant if they discussed social media and/or digital technologies and the Australian Indigenous population. Only articles that referred to humans and Indigenous populations from Australia were included.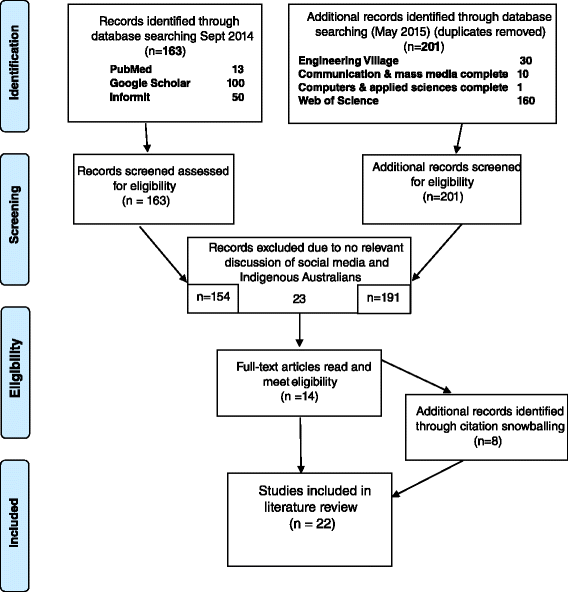 The PubMed search for articles published in the last 10 years produced 2 relevant articles with a further four sources identified through citation snowballing. The Google Scholar search for articles since 2010 produced 4,620 results sorted by relevance, of which three relevant articles were identified in the first 50 of the 100 results reviewed, with two additional sources identified through citation snowballing. The Informit search produced 940 results sorted by relevance, of which four articles were included from the first 50 results identified and two additional sources included as a result of citation snowballing. In May 2015 a further search of additional databases (Engineering Village (journal articles only); Communication & mass media complete; Computers & applied sciences complete; Web of Science) resulted in identification of 201 potential references which after screening and elimination of already included duplicates resulted in an additional 6 articles, two published since the previous 2014 search. Several articles were eliminated based upon their content being restricted to on-line learning of Indigenous tertiary students.
After reading and complete review of all of the relevant articles, the issues explored by the papers were refined and grouped, forming an emergent thematic framework which was used to identify the overall themes; specific examples were identified. The papers/sources were reviewed by at least two reviewers to ensure agreement upon the main themes identified in this paper.
Discussion
Social media and digital technology use among Indigenous young people in Australia is understudied, with research to date largely in the anthropological and social science disciplines. However, it is clear that uptake of social media has been rising rapidly, with Indigenous youth avidly utilising it in ways that suit their identity, culture and interactions with the wider world and with scholars and Indigenous activists beginning to consider the place of social media and its potential [36].
This review utilised a search based upon relevant databases. Informit and Google Scholar both have access to such large quantities of information and the data searches were sorted by relevance so the titles and abstracts of the first 50 or 100 results respectively were examined for relevance with most of the included articles appearing in the top part of the search as expected based on a search sorted by relevance. It is likely that considerably more material exists, particularly in the grey literature. Nevertheless, clear themes and uses of social media in relation to Indigenous young people.
Indigenous young people use social media to help form, affirm and strengthen identity, to feel a sense of power and control over their own lives and to make and continue community and family connections. This shows the potential for social media to be used in beneficial ways. Multimedia and the social media are culturally compatible for Indigenous young people and offer the opportunity to explore and express their identities online in ways that may not be possible in mediums such as written text [1, 17]. Social media can bring together Indigenous people who otherwise may not know each other or have been disconnected in the past, but who now have the opportunity to form a community, based on their shared Indigenous identity [1, 17]. Forming communities through social media can act as a process of uniting and healing for the Indigenous community. It is known that strong cultural identity is linked with greater participation, with achievement in education and training [37] and is a protective factor against self-harm in Indigenous young people [38]. Strengthening identity through social media may therefore offer an opportunity to help improve educational and health outcomes among Indigenous young people. There was good evidence for social media use and uptake in both remote and urban environments, suggesting that it could be utilised in settings across Australia as part of education, engagement and health promotion interventions.
Indigenous Australians have also used social media to transmit intergenerational knowledge, which may improve personal, family and community relations between the young and old generations [1, 13, 16]. Social media can enable young and old Indigenous people to reconnect and understand each other better through collaborative efforts between the generations - utilizing the skill over digital technology of the young people and the knowledge and wisdom of culture, language, Country and traditions of Elders. Younger people can express themselves and share their stories, ideas, views, photos and experiences through social media, which may help older generations to better understand where they are coming from. For example, research on Inuit youth in Canada included students making a short video about what is important to them which was shown at an important community meeting. As Garakani explains "community members, especially the elders, were touched by the videos and realized that they had underestimated the degree to which the youth were attached to the land, culture, language, and traditions" [39].
Social media also provides opportunities for the transmission of knowledge about Indigenous people to non-Indigenous people to help them better understand Indigenous cultures, perspectives and the challenges that Indigenous young people face. Improved communications and relationships between Indigenous young people and the broader community are important precedents to understanding and addressing broader social exclusion and disadvantages that Indigenous youth often experience. Thus, encouragement from community leaders, Elders, family members and others assists some school-aged students to complete Year 12 [40]. Positive experiences at school are protective against structural social issues so effective implementation of social media and digital technologies in the school environment offers the potential for improving Indigenous young peoples' experiences at school [39].
The confidence that Indigenous young people have when approaching the use of social media invites its potential use in other arenas where they may not normally be comfortable participating. One such example is in research. A study of Inuit youth in Canada successfully used technology to gain feedback from students during the study. As Garakani states, "We observed the students' ease in using the technology, which served as a non-threatening informal activity, allowing them to express themselves, without the barriers of language and other research formats" [39]. Increasing use of social media to document and reflect on what is important to themselves potentially gives researchers greater opportunities to work collaboratively with young people [18]. Further research that focuses on Indigenous young people could inform future programs and initiatives which use social media.
Social media is multi-dimensional in nature and related to many aspects of society, including education, policy, communication and broader community. It offers unprecedented opportunities to be exposed to learning and to interfacing with the best and worst of the wider world. Just as there are positive possibilities with social media, there are negative impacts of use such as cyber bullying, cyber racism and sexting which create concern. Social media can be used in ways which exacerbate negative images, put pressure on young people to conform and limit individuals from exploring and expressing their complex, rich and multiple identities [17]. The worldwide application of social media makes its regulation more challenging and problematic [14, 34]. While these issues are by no means limited to the Indigenous population, negative use of social media which undermines identity, control and sense of community and family connection have the potential to be particularly damaging to young people who are already vulnerable.
Therefore, programs and health promotion efforts that incorporate social media and use active engagement to promote feelings of high self-esteem, power and control and resilience have the potential to reach Indigenous young people in effective ways to increase self-efficacy. However, it is important that digital health promotion efforts do not revert back to health promotion that focuses solely on changing individual's behaviours. Rather, digital health promotion needs to embrace the wider approach to behavioural interventions that includes social determinants of health as influential factors to individuals' health and wellbeing [41]. A recent review examines peer-reviewed evidence for the effectiveness of social media and mobile technologies in health promotion (globally) and uses of social media to reach Indigenous Australians and mobile apps produced by Australian health bodies for health promotion efforts around smoking cessation, sexual health, and otitis media. The authors identified five Australian projects with significant social media health components targeting the Indigenous Australian population for health promotion purposes and four mobile software apps that met their criteria for inclusion but reported there was no evidence of benefit found for these projects [26].
Conclusions
This review set out to explore the use of social media in a particular target group, namely Indigenous young people, including positive and negative impacts of social media use and how this potentially impacts health and health promotion approaches. It has shown that despite some challenges with telecommunications access and the social disadvantages experienced by many Indigenous youth, social media presents opportunities given it can have great significance in the lives of Indigenous young people. Themes that were identified in this literature review were personal and Indigenous identity, power and control, cultural compatibility of multimedia platforms and community and family connections, all indicating that social media can be used for positive benefits by Indigenous young people. Awareness and education about the negatives uses and impacts of social media are required to ensure that it is not used to exacerbate the poor social and emotional wellbeing of Indigenous young people, particularly those who experience social disadvantage and are at greater risk. Use of technology for social connection purposes does not necessarily mean that these technologies can be used for effective health interventions and there is a need to evaluate the impact of any interventions that utilise social media as a component.
The high level of uptake and involvement by Indigenous young people in digital technology and social media suggests that social media may be useful in a research setting, including for recruitment, intervention, program implementation, monitoring and evaluations. Social media could potentially help increase the involvement of Indigenous young people in research which has often been difficult to achieve and enable a more comprehensive investigation of aspects of the thinking of Indigenous youth, particularly in identifying solutions to address problems that they face in their lives. More information is needed about the associations and determinants of use and ways to maximize the positive potential of social media in the lives of Indigenous young people while limiting the negative impacts.
The high utilization of social media among young Australians, both Indigenous and non-Indigenous, creates potential opportunities to bridge the social, educational and health gaps between Indigenous and non-Indigenous young people and to enable identities, power and control and community and family connections to be shared, expanded, celebrated and strengthened. Because of this, health practitioners need to understand more about potential and appropriate ways to embrace social media to enhance health relevant interventions. We also need to be mindful that social media can also operate and divide people along social class lines [42]. Future research should focus on the potential of incorporating social media into socially focused Indigenous programs to increase participation and effective engagement and on building better relations and bridging the gaps that exist for Indigenous and non-Indigenous young people.
Declarations
Acknowledgements
The Western Australian Centre for Rural Health receives funding from the Australian Department of Health and this work was supported in part by a Healthway grant 20340, More than Talk. We gratefully acknowledge assistance from Emma Taylor with database searching for relevant literature.
Authors' contributions
The review was conceived by SCT and EH in conjunction with ESR. The initial literature search and assessment of references was undertaken by ESR and this was supplemented by additional searching and assessment of articles by all authors. All authors contributed to drafting and revising the manuscript and read and approved the final manuscript.
Competing interests
The authors declare that they have no competing interests.
Open AccessThis article is distributed under the terms of the Creative Commons Attribution 4.0 International License (http://creativecommons.org/licenses/by/4.0/), which permits unrestricted use, distribution, and reproduction in any medium, provided you give appropriate credit to the original author(s) and the source, provide a link to the Creative Commons license, and indicate if changes were made. The Creative Commons Public Domain Dedication waiver (http://creativecommons.org/publicdomain/zero/1.0/) applies to the data made available in this article, unless otherwise stated.
Authors' Affiliations
(1)
Georgetown University, Washington, USA
(2)
Western Australian Centre for Rural Health (WACRH), University of Western Australia, Geraldton, Australia