Annotated bibliography
Open Access
Immigration as pathogenic: a systematic review of the health of immigrants to Canada
International Journal for Equity in Health
The official journal of the International Society for Equity in Health
2010
9:27
Received: 26 May 2010
Accepted: 24 November 2010
Published: 24 November 2010
Abstract
This review investigates the health of immigrants to Canada by critically examining differences in health status between immigrants and the native-born population and by tracing how the health of immigrants changes after settling in the country. Fifty-one published empirical studies met the inclusion criteria for this review. The analysis focuses on four inter-related questions: (1) Which health conditions show transition effects and which do not? (2) Do health transitions vary by ethnicity/racialized identity? (3) How are health transitions influenced by socioeconomic status? and (4) How do compositional and contextual factors interact to affect the health of immigrants? Theoretical and methodological challenges facing this area of research are discussed and future directions are identified. This area of research has the potential to develop into a complex, nuanced, and useful account of the social determinants of health as experienced by different groups in different places.
Keywords
Immigrant WomanPostpartum DepressionRecent ImmigrantVisible MinorityHealth Transition
Introduction
Patterns of immigrant health have received considerable attention in the social science and medical literature in the past two decades, particularly in the United States [1–3], where researchers have focused on the 'paradox' of good health given relatively poor socioeconomic conditions among Hispanic immigrants. In Canada, research on the health of immigrants has engaged with contrasting notions of 'sick immigrants' and 'healthy immigrants' [4]; the former describing immigrants as carriers of disease and as burdens on health and social welfare systems, and the latter acknowledging that because of a number of factors - including self-selection as well as Canadian immigration policies - immigrants to Canada tend to be healthier than the native-born population at the time of their arrival in the country [5, 6].
An important dimension to the Canadian literature on the healthy immigrant effect is the notion that although the health of immigrants may be better than that of the native-born population at the time of immigration, that advantage is lost over time. Considering the widespread acceptance of the hypothesis that social conditions are central determinants of health [7–9], this pattern of an advantage that is lost tells us a great deal about the quality of the social fabric and its effect on health, particularly if it describes the experiences of a wide range of immigrant groups across myriad health outcomes.
A pattern of an initial advantage that is lost over time is one of the six different possible immigrant health transitions described in figure
1
. Three of the scenarios (A, C, and E) describe situations where the health of immigrants is better than that of the native-born population - what many studies in this area define as the 'healthy immigrant effect'. Three (B, D, and F) describe situations of an initial disadvantage.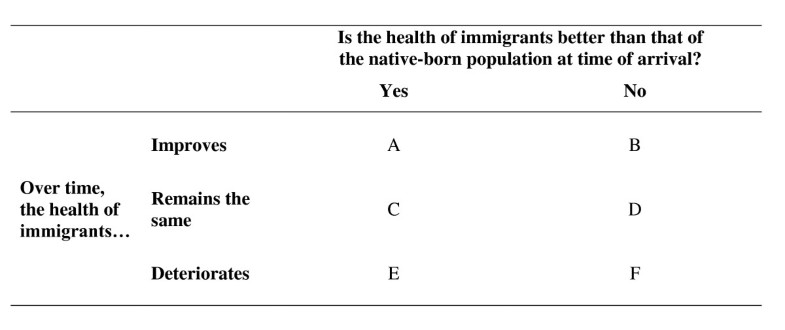 Options B, D, and F fall within the 'sick immigrant' paradigm [4], a perspective that sees immigrants representing a health burden. Whilst empirical research has rejected the validity of this paradigm, it nevertheless still shapes anti-immigration ideologies, often interacting with ideas that immigrants take jobs away from the native-born population. Outcome E (a more nuanced definition of the 'healthy immigrant effect' that is used by many studies in this area; it describes an initial advantage that is lost over time) has been the subject of most recent empirical studies on the health of immigrants to Canada in the past twenty years and is the focus of this paper. The first criterion (an initial advantage in health status in comparison to the native-born population) may be attributable, at least in part, to a self-selection process and the federal government's immigration policies [5, 10, 11]. The second criterion (the loss of this advantage and deterioration in health status) makes this one of the least desirable outcomes in the typology and would represent a particularly surprising pattern, given Canada's relatively advanced economic standing and the availability of health care services.
If a pattern of deterioration in health status is widespread among immigrants, and if that pattern cannot be explained by compositional characteristics of the immigrants themselves such as aging, 'convergence' factors such as changing patterns of nutrition, or environmental/contextual factors [4], this situation would represent a damning indictment of the quality of the social fabric in Canada. These findings potentially hold very important policy implications, and add further complexity to the study of the social determinants of health.
However, for these implications to be fully understood, we need a better understanding of (a) which health conditions show transition effects and which do not; (b) how immigrants of different ethnicities or 'racialized identities' [12] vary in their health transitions; (c) how health transitions are influenced by socioeconomic status; and (d) how compositional and contextual factors [13] interact to affect the health of immigrants. Analysis of these themes may also indicate differences by age, immigrant type (family-class, economic-class, or refugee), and gender [4, 5]. This article provides a systematic review of published empirical studies on the health transitions of immigrants to Canada, highlighting the state of current knowledge on the above points. Based on this review, methodological challenges facing this area of research are critically examined and future directions are identified.
Conclusion
Empirical studies of the health of immigrants to Canada overwhelmingly support the notion that immigrants are healthier than the native-born population at the time of their arrival in the country but that this advantage may be lost over a relatively short period of time (2 to 10 years). This patterning is found, with a few exceptions, in studies of self-assessed health status and the presence of a diagnosis for chronic conditions such as diabetes and heart disease. Studies of overweight and obesity also support this notion, and introduce complexity by detecting heterogeneity in immigrant health status and trajectories. Most recently, researchers have begun to examine mental health and birth outcomes in relation to immigration to Canada. The emerging pattern appears to be that depression and other mental health issues are less prevalent among immigrants than the Canadian-born population. However, this advantage diminishes as length of residence in Canada increases. Living in areas with a high density of immigrants may help immigrants to retain this advantage. At the same time, immigrants who experience discrimination may be more likely to report worsening health. Additionally, income may interact with gender as a determinant of mental health, with mid- and high-income immigrants faring worse than expected given their income status.
The studies analysed in this review focused on chronic disease. Further research is needed on patterns with infectious disease, including tuberculosis and HIV/AIDS. Hyman, in a review of the evidence on the health of Canadian immigrants, notes that Canadian expert opinion is that the majority of tuberculosis cases among immigrants and refugees stem from previous infections that are re-activated post-migration, and that only a small subset of cases are the result of post-migration primary infection [5]. This would suggest that the health transitions of immigrants may be distinct when it comes to infectious diseases. However, using historical examples, Beiser [4] questions whether immigrants and refugees bring tuberculosis with them, or if they experience an increased risk of exposure as a result of overcrowding and poor living conditions. This may involve reactivation of latent tuberculosis or the development of a new infection. In the case of HIV/AIDS, little is known about the interaction of exposure to risk, acculturation, and immigration to countries such as Canada.
Research on the health transitions of immigrants to Canada has the potential to develop in theoretically and methodologically nuanced ways, and thereby contribute to wider debates on the social determinants of health and health inequities. Increasingly, researchers in this area are engaging with literature on identities, and may move from static classifications of 'race/ethnicity' to relational classifications of 'racialized identities' which sees categorizations such as 'visible minority' and 'non-white' as expressions of power. Integrating concepts like this into the statistical modelling that forms the heart of this research programme is a formidable challenge - but if successfully accomplished, would hold important lessons for medical sociology and social epidemiology in general.
At the same time, there are signs that the statistical models used in this area are advancing from ignoring structure to modelling it, thereby seeing health as a product not just of compositional factors such as age, gender, and income, but also of contextual factors - the characteristics of the places where people live and work. Along with these theoretical and methodological opportunities, research on the health transitions of immigrants to Canada may contribute to a more useful global social science through comparative analyses with other countries with high rates of immigration, including Australia [91] and the United States [1, 92, 93].
This review has focused exclusively on quantitative analyses of immigrant health. Most of the studies in the review relied on data from major Statistics Canada surveys, including the NPHS, the CCHS, and most recently, the LSIC. These surveys, whilst offering important properties, including national representativeness, do limit the kinds of questions that researchers investigate; work that values an interpretivist epistemology is simply not possible using these datasets [7]. Alternatively, qualitative methodologies may be used to better understand the challenges faced by service providers in seeking to provide care for immigrant groups [94], and participatory action research may be used to evaluate prevention and treatment programs [95]. However, researchers interested in determining the magnitude of health status differences between immigrants and the Canadian-born population will likely continue to rely on data sources such as the CCHS and the LSIC for the foreseeable future.
There are several limitations to this review. The first, as noted above, is an exclusive focus on quantitative studies. A second major limitation is a reliance on English-language publications. Future work should examine French-language studies. The review has also focused on adult health outcomes (and pregnancy-related outcomes such as low birth weight). Future work should extend the analysis to include child and adolescent health outcomes. Future work could also compare findings from Canada to other immigrant-receiving countries. Lastly, whilst the search strategy was designed to locate relevant studies, it is possible that not all studies have been identified. However, there is no reason to believe that studies have been excluded in a systematic way.
This is a rapidly growing area of research. More than a dozen studies have been published in the last 18 months, with more likely to come as a result of the release of data from the LSIC. A better understanding of the drivers of immigrant health is of utmost importance, particularly in a country like Canada, which has a long-standing tradition of research on the social determinants of health [96].
Declarations
Acknowledgements
This research was supported by a Social Sciences and Humanities Research Council of Canada/Simon Fraser University Institutional Grant. I am grateful to Eagan Kemp and Kevin McCartney for their research assistance on this project. Insightful comments were offered by the anonymous referees.
Authors' Affiliations
(1)
Department of Sociology and Anthropology, Simon Fraser University, Burnaby, Canada
Copyright
© De Maio; licensee BioMed Central Ltd. 2010
This article is published under license to BioMed Central Ltd. This is an Open Access article distributed under the terms of the Creative Commons Attribution License (http://creativecommons.org/licenses/by/2.0), which permits unrestricted use, distribution, and reproduction in any medium, provided the original work is properly cited.