Using spatial equity analysis in the process evaluation of environmental interventions to tackle obesity: the healthy towns programme in England
International Journal for Equity in Health
The official journal of the International Society for Equity in Health
2013
12:43
Received: 18 October 2012
Accepted: 26 May 2013
Published: 17 June 2013
Abstract
Introduction
Process evaluations of environmental public health interventions tend not to consider issues of spatial equity in programme delivery. However, an intervention is unlikely to be effective if it is not accessible to those in need. Methods are required to enable these considerations to be integrated into evaluations. Using the Healthy Towns programme in England, we demonstrate the potential of spatial equity analysis in the evaluation of environmental interventions for diet and physical activity, examining whether the programme was delivered to those in greatest need.
Methods
Locations of new physical infrastructure, such as cycle lanes, gyms and allotments, were mapped using a geographic information system. A targeting ratio was computed to indicate how well-located the infrastructure was in relation to those at whom it was specifically aimed, as detailed in the relevant project documentation, as well as to generally disadvantaged populations defined in terms of UK Census data on deprivation, age and ethnicity. Differences in targeting were examined using Kruskal-Wallis and t-tests.
Results
The 183 separate intervention components identified were generally well located, with estimated targeting ratios above unity for all population groups of need, except for black and ethnic minorities and children aged 5–19 years. There was no evidence that clustering of population groups influenced targeting, or that trade-offs existed when components were specifically targeted at more than one group.
Conclusions
The analysis of spatial equity is a valuable initial stage in assessing the provision of environmental interventions. The Healthy Towns programme can be described as well targeted in that interventions were for the most part located near populations of need.
Keywords
Spatial inequalitiesHealthy townsProcess evaluationIntervention
Background
Effective public health interventions should narrow inequalities by having a positive impact on the health of populations most in need. However, this often does not occur, and interventions may sometimes widen inequalities[1]. These intervention generated inequalities may be more pronounced for certain classes of intervention, such as those reliant on voluntary behaviour change, which may result in lower uptake among more disadvantaged groups[2]. This has been shown in interventions such as those to promote breast feeding[3], seatbelt use[4] and cancer screening[5]. Furthermore, the effectiveness of interventions may be socially patterned, as found by studies of smoking restrictions[6] and bicycle helmet legislation[7]. These observations are of particular concern given the potential existence of 'deprivation amplification'[8], whereby the most socioeconomically disadvantaged experience poorer health and poorer access to resources[9]. A version of the 'inverse care law'[10] may therefore operate for many interventions, whereby the provision of facilities that are spatial in nature may be poorest in areas with greatest need. One way of investigating such issues within evaluations is to explore the underlying geographical distribution of resources in relation to the context of the areas in which they are provided[11].
Achieving social equity in environmental planning and decision making processes is increasingly recognised as an important component of environmental policies in many countries[12]. Building on the concept of environmental inequity in the USA – defined as the apparent unequal geographical distribution of benefits or burdens among those in poverty or for minority groups[13] – early work focused on consideration of disamenities such as hazardous facilities[14, 15]. Subsequently, access to amenities has been considered, with studies examining the locations of parks[16], playgrounds[17, 18] and public health facilities[19], often suggesting that disadvantaged populations may have poorer access to given resources. A valuable component of environmental equity is therefore that of spatial equity.
An important current area of research is the exploration of the provision of resources that support physical activity. People who engage regularly in physical activity are less likely to experience a range of preventable chronic conditions including obesity[20]. Consequently, interventions have been developed in order to increase activity levels in target groups or populations[21] with mechanisms including the use of information, targeted behavioural and social programmes, and changing the physical environment and planning policy associated with it[22]. For example, interventions to encourage walking and cycling have included publicity campaigns to increase awareness, financial incentives, and improvements to footpaths and cycle routes[21]. Disadvantaged groups, such as those with low socio-economic status and ethnic minorities, often have higher levels of obesity and have sometimes been shown to live in areas with poorer access to facilities for physical activity or healthier eating[23]. This emphasises the importance of understanding how need and provision vary spatially so that interventions can be located to serve these high-need yet often overlooked populations. Nevertheless, decisions about where to locate infrastructure can be difficult to reconcile with the location of target populations due to issues of land availability and other context-specific circumstances[24]. There remains a paucity of evidence regarding the delivery of effective interventions[25] due to limited evaluation of interventions[26].
Methods using geographic information system (GIS) technology may be employed to assess the spatial equity of amenities, resources and infrastructure. Studies have calculated the distances between residential locations and amenities[27] and the number of facilities available per capita[28]. However, the utility of these findings is limited, as not all have considered the underlying geography of need, so it is not always known if a facility favours or disadvantages a certain type of population[17]. Some studies have addressed this; Nicholls[17, 29] evaluated the locations of disadvantaged populations (non-white populations, children, economically disadvantaged) with and without access to parks within 800m of home, finding that parks tended to be located in areas with greatest need. Such literature is generally concerned with the location of existing infrastructure rather than the evaluation of recent modifications to the built environment. Nevertheless, method and learning from these studies may be used to inform the evaluation of infrastructural interventions to target population health behaviours.
Process evaluation is central to determining whether interventions perform as intended[30] and can therefore aid understanding of how the context within which they are developed may affect their eventual effectiveness[31]. Spatial equity is the first step in a process towards reducing health inequality via structural or area-based interventions and should therefore be evaluated accordingly. If the intervention does not achieve a basic level of 'availability' through accurate targeting, then the next steps - uptake, efficacy, long-term compliance and health outcomes[1] - are unlikely to be achieved. It is thus important to examine the potential reach of interventions[32], and the implications of their presence[33] in order to give insight and possible explanation for the outcomes[34]. UK guidance recommends that components of planning, implementation and operation should be reviewed as a necessary precursor to a full evaluation of health interventions[35] to understand the local context, at whom a given intervention is aimed, and the components of an intervention[34]. It has been suggested that evaluations might be further strengthened by integration of geographic data[36] and we argue this is particularly so for spatial equity analysis. This may ultimately be used to give an early indication that an intervention might not eventually be effective because it is poorly targeted.
In this paper we develop and apply methods to evaluate how the spatial location of infrastructure relates to the underlying geography of population need, using the case study of a recent government-funded programme in England, 'Healthy Towns'[37]. This government-funded programme aimed to provide interventions to encourage dietary and physical activity behaviour change to combat obesity. We investigate whether infrastructure developed from this was best located in relation to areas of need, according to the socio-demographic characteristics of neighbourhoods.
Results
A total of 183 individual pieces of infrastructure that were either complete or in progress were identified across eight Healthy Towns. Of these, 80 (44%) were classified as 'physical activity' (e.g. green gyms and play areas), 59 (32%) as 'active travel' (e.g. walking maps and signed cycle routes), 39 (21%) as 'food systems' (e.g. community cafes and allotments) and 5 (3%) as 'healthy lifestyle' (e.g. advice centres and information trails). The most common types of intervention were outdoor play areas/green space (27%), walking/cycling mapping/signage (23%), food growing (18%) and walking/cycling routes (11%).
Table
3
shows the relationship between town size and per-capita funding according to the number of people in each town and those within a ten minute walk. Greater overall funding was associated with lower per-capita funding for the majority of population groups.
Table 3
Per capita funding from the healthy towns programme
Funding by town size group

Small

Medium

Large

Mean funding per town (£M)

1.05

3.07

4.68

Funding per capita (£)a

 All people

59

20

14

 All people with good access

63

29

43

 BME

1538

240

96

 BME with good access

1590

288

406

 Child

237

79

58

 Child with good access

249

116

172

 Retired

666

203

183

 Retired with good access

693

299

504

 Socio-economic disadvantage

272

95

68

 Socio-economic disadvantage with good access

283

134

196
Figure
2
shows the target population group of each town along with the associated average targeting ratio. For all population groups except BMEs and children aged 5–19, ratios were above unity suggesting that infrastructure tended to be positioned in areas where the associated target population group lived. However, few of the estimated targeting ratios were statistically significant. While the targeting ratio for interventions targeted at socio-economically disadvantaged populations showed the highest statistical significance (targeting ratio 1.27, 95% CI 1.17 to 1.37, p<0.001), the largest targeting ratios were observed for social housing households (2.16, 95% CI 1.26 to 3.05) and resident adults (1.48, 95% CI 0.97 to 2.00). When targeting ratios were examined in relation to the four identified generally disadvantaged population groups (Figure
3
), the ratios were all above unity, suggesting that the locations of infrastructure tended to favour these groups even if they were not necessarily the target population. Indeed, a comparison with Figure
2
shows that BMEs were more favoured overall (1.45, 95% CI 1.10 to 1.81) than for infrastructure specifically targeted at them (0.77, 95% CI 0.40 to 1.14).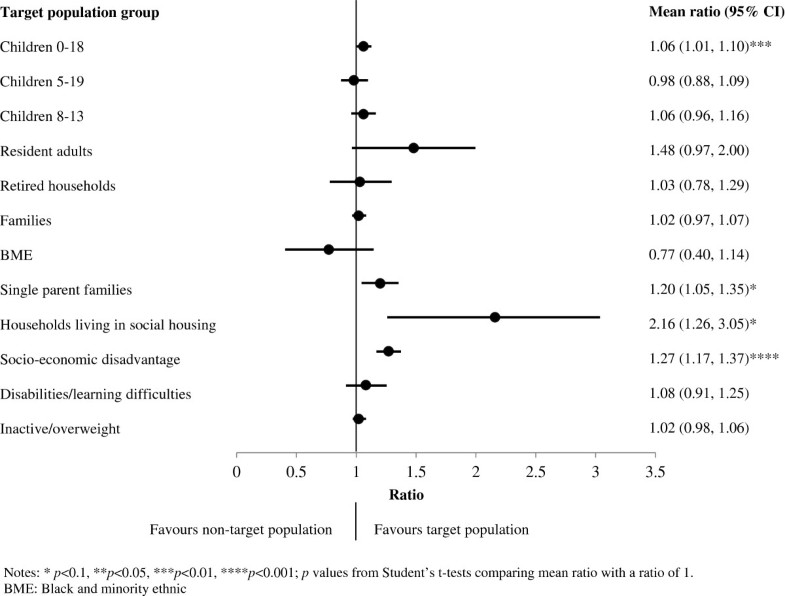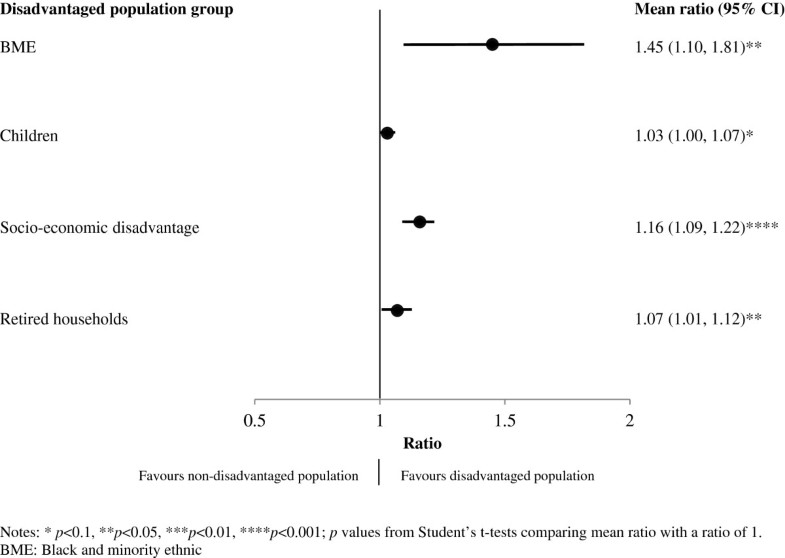 Analysis of the mean targeting ratios according to intervention type and category showed that the majority of average ratios were above unity, suggesting that these populations were generally well-served by the items of infrastructure, although most did not reach statistical significance. For a full table of results, please see Additional files1 and2.
There was no evidence that overall population clustering was associated with targeting ratios (Table
4
). However, when disaggregated by population group, there was evidence that targeting ratios were lowest in the most clustered populations for BME populations, whilst for socio-economically disadvantaged populations the highest ratio was observed in the most clustered tertile.
Table 4
Mean rank of targeting ratios for disadvantaged populations by tertiles of clustering
| Group | Tertile 1 (least clustered) | Tertile 2 | Tertile 3 (most clustered) | p valuea |
| --- | --- | --- | --- | --- |
| All | 359.9 | 367.5 | 371.5 | 0.83 |
| BME | 111.2 | 96.9 | 72.3 | <0.001 |
| Children | 82.1 | 98.3 | 96.3 | 0.18 |
| Socio-economic disadvantage | 85.7 | 73.5 | 111 | <0.001 |
| Retired households | 81.4 | 98.2 | 94.1 | 0.2 |
The average targeting ratio, according to mean rank, was significantly associated with the number of target groups for each intervention (p = 0.003), although the highest mean rank (139) was found for interventions targeted at the largest number of different groups (six), suggesting that multi-target population interventions tended to be better rather than more poorly targeted (full results not shown).
Discussion
Summary of main findings
Our findings suggest that infrastructure developed within each Healthy Town generally met our criterion (the targeting ratio) for spatial equity and this was independent of the amount of funding received. This was most statistically significant for socio-economically disadvantaged populations, which is in keeping with the evidence that some of the towns specifically identified generally disadvantaged areas to be targeted in their project initiation documents. We suggest that certain types of intervention may be less easy to locate with respect to populations who may particularly need them due to the nature of the resources they require. An example is food growing and food systems, reflecting limitations caused by the need for suitable land for these types of infrastructure programme. Spatial clustering of population groups was not associated with the success of spatial targeting in general, although areas with the high concentrations of socio-economically disadvantaged groups did experience highest targeting success. This illustrates how infrastructure providers can face particular challenges in areas where populations of need are not concentrated in particular places. We found no evidence that interventions targeted at more than one population group were less well located.
Examining where interventions were located in relation to who they were aimed at and the local context, as recommended by UK guidance[34, 35], suggested that the Healthy Towns intervention was operating as it was initially intended in this respect. Thus, incorporating spatial equity analysis into the process evaluation of an environmental intervention allowed us to examine if the resources were directed to the most appropriate locations, a question which is appropriate to the current early stages of an intervention such as the Healthy Towns programme[31]. This is important in the context of evaluating environmental interventions, as health inequalities (and therefore population need) vary spatially[53] and therefore need careful spatial planning to ensure intervention success. The findings from this initial analysis may inform subsequent evaluation stages, providing explanation for outcomes, impacts and costs/benefits that may otherwise not be detected: our findings suggest that if the Healthy Towns programme is not successful and health inequalities are not reduced, it will be for reasons other than poor spatial planning. Indeed, qualitative evaluation of the implementation of the Healthy Towns programme has suggested that these reasons may include insufficient time, lack of evidence and poor alignment with national priorities[54]. We have generated new knowledge in the form of explicit, transparent and accurate information about the locating of infrastructure, thereby improving the evidence base for decision-making[30].
Strengths and limitations
This study is novel in that it has demonstrated one approach to incorporating spatial equity analysis into the process evaluation of a complex environmental intervention. Identifying the spatial distribution of newly-built infrastructure allowed us to examine how access to new facilities was patterned according to population need. A particular strength was having access to a complete, up-to-date and detailed database of the location and progress of the interventions, constructed by consulting a wide range of sources and relevant programme staff. This was important as some of the pieces of infrastructure considered differed from those described in the original plans in the implementation documentation. All information that was not in a geographically referenced digital format was manually digitised. The availability of national, detailed geographic data (OS mapping, census statistics) combined with information obtained from the local areas allowed accurate referencing of information. All geographical data was subsequently checked via discussions with programme staff in each of the local areas.
Our work has some limitations. Defining the area of an intervention required a number of assumptions. The definition of a ten minute walking distance to approximate 'good' access was based on distances commonly used in the research literature, although some people will walk further to reach certain amenities[55], whilst others will be less mobile. In reality accessibility will vary by these individual characteristics. Because we did not have information on the locations of pedestrian only cut-throughs, common in urban areas, we used straight line distances rather than network distances when calculating accessibility. As just 183 new pieces of infrastructure were funded from the Healthy Towns programme, the sample size was limited for statistical analysis, particularly stratified analysis. In addition, we had no information regarding the quality of the interventions. Our population data were taken from the most recent (2001) Census of Population in England and Wales but this does mean that they reflect the local population almost ten years prior to the introduction of the Healthy Towns infrastructure. Finally, we did not attempt to evaluate the success of the interventions in terms of how and by whom they were used, or any resulting impact on behavioural or health outcomes.
Conclusions
Interpretation and contribution to existing knowledge
Building on existing research in the field of spatial equity analysis, we have presented the development and findings of a new method to help understand the implementation of interventions designed to change the built environment to promote healthier behaviours. We have contributed to the field of process evaluation, providing a robust means of initial evaluation of interventions compatible with UK[34, 35] and US[36] recommendations, that considers the locations of populations of need[17]. We have established that infrastructure provision from the Healthy Towns programme in England was generally spatially equitable in that it was located in areas of highest population need, suggesting that in contrast to the literature on environmental disamenities[14, 16, 56], disadvantaged populations do not necessarily lose out when environmental modifications are made. With careful planning and implementation of interventions, therefore, interventions need not necessarily result in deprivation amplification[11].
Implications for policy, practice and research
We propose that this form of spatial equity analysis should be incorporated as the first step in future process evaluations for spatially planned interventions in health, especially where it can answer questions at an early stage in the evaluation at which impact analysis may be premature. It may thus be a useful part of a formative evaluation. Nevertheless, the constantly changing policy landscape, coupled with often short-term fixed funding horizons for intervention delivery brings particular methodological and practical challenges, necessitating fast action to assemble required datasets whilst key personnel are still in post. Awareness of these challenges will be crucial to the success of similar analyses in future intervention studies.
Declarations
Acknowledgements
This is an independent report commissioned and funded by the Policy Research Programme in the Department of Health (Healthy Towns: Evaluation of the Healthy Community Challenge Fund) grant number 0620026. DO and AJ were also supported by the Centre for Diet and Activity Research (CEDAR), and MW was supported by Fuse, the Centre for Translational Research in Public Health. Both CEDAR and Fuse are UK Clinical Research Collaboration (UKCRC) Public Health Research Centres of Excellence, with funding from the British Heart Foundation, Cancer Research UK, Economic and Social Research Council, Medical Research Council, National Institute for Health Research (NIHR), and Wellcome Trust, under the auspices of the UKCRC, which is gratefully acknowledged. SC is also supported by a NIHR Senior Fellowship. The views expressed are not necessarily those of any of the above named funders. We thank Elena Sautkina and Denise Goodwin at Queen Mary, University of London for their inputs.
Authors' Affiliations
(1)
School of Environmental Sciences, University of East Anglia, Norwich Research Park, UK
(2)
UKCRC Centre for Diet and Activity Research (CEDAR), Institute of Public Health, Cambridge, UK
(3)
Norwich Medical School, University of East Anglia, Norwich Research Park, Norwich, UK
(4)
Institute of Public Health,, Medical Research Council Epidemiology Unit, Cambridge, UK
(5)
Department of Social and Environmental Health Research, London School of Hygiene and Tropical Medicine, London, UK
(6)
Fuse, UKCRC Centre for Translational research in Public Health, Institute of Health & Society, Newcastle University, Newcastle upon Tyne, UK
Copyright
© Dalton et al.; licensee BioMed Central Ltd. 2013
This article is published under license to BioMed Central Ltd. This is an Open Access article distributed under the terms of the Creative Commons Attribution License (http://creativecommons.org/licenses/by/2.0), which permits unrestricted use, distribution, and reproduction in any medium, provided the original work is properly cited.